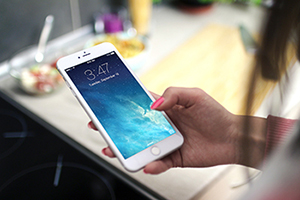 We all know that print-to-mobile marketing is critical to reaching your target audience, but new research from Pew Internet shows why it is more important than ever. According to Pew's latest research,1 there is a growing population of consumers who not only like to use mobile to engage with companies online, but for whom mobile is the only way to engage online.

According to Pew Research, 19% of Americans rely partially or entirely on their smartphones for accessing online services and information. This is either because they do not have high-speed access at home or because they have few other options. Nearly 1 in 10 consumers is smartphone-dependent.

According to Pew:
• 10% of Americans own a smartphone but do not have broadband at home.
• 15% own a smartphone but say that they have a limited number of options for going online other than using their cellphone.
• 7% of Americans own a smartphone but have neither traditional broadband service at home nor easily available alternatives for going online other than their cellphone.

This issue is elevated among younger adults (15% of those 18–29 years old are "heavily dependent" on a smartphone for online access); those with lower incomes and levels of education (13% of those with annual household incomes of less than $30,000 per year are smartphone-dependent); and non-whites (12% of African Americans and 13% of Latinos are smartphone-dependent).

To ensure that marketing content can be accessed by and responded to by smartphone-dependent consumers, marketers can add QR Codes, augmented reality, or text-back options (such as short codes) to print marketing pieces. You can add them to direct mail letters and envelopes, product packaging, in-store displays, table tents, and any other materials your customers are interacting with.

If you are using QR Codes, remember to create campaign-specific mobile landing pages so that the smartphone-dependent population can easily navigate them (although creating mobile-optimized pages is something you should be doing anyway). If you are using personalized URLs, QR Codes can be personalized so that they take recipients directly to their personalized micro-sites rather than to static campaign pages.

Most of us know how important mobile is to any multichannel campaign. But as the research shows, it's becoming more important than ever.


1 http://www.pewinternet.org/2015/04/01/us-smartphone-use-in-2015/